Raymond believes in nurturing and providing a platform for fast paced career development. We believe in the principle of equal opportunities to all however if you have an urge to move an extra mile, we have all the ways to support you. Raymond Leadership Academy is an institution which continue to search the high potential employees across the groups and serves them by giving innumerable growth and development opportunities. Under RLA (Raymond Leadership Academy), we run different flagship programs covering all business units
Emerging Leadership Program​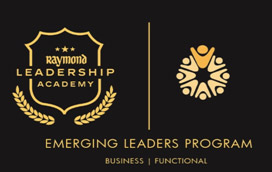 As the name suggests, this program aims at transforming high potential employees into leaders of tomorrow by channelizing their aspirations and agility. Our pool of young talent is provided with clear visibility of next level business/functional roles and are exposed to role movement and cross-functional projects. To make it even more simpler, this program comprises of the following two plan of actions:
Emerging Business Leaders
This plan of action will prepare you to take on business roles over a period of 3 years.
Emerging Functional Leaders
This plan of action will prepare functional leaders like you for succession into critical functional leadership roles.
High Potential Development Program
At Business level, employees who have high potential and have completed the assessment process for the same however could not reach to the epitome of ELP programs, are groomed as Business Level Talent Development Program.
We provide development through all the best available mediums in the industry like coaching, individual development plan, blended learning approach, alignment with A grade international educational institutes, on the job stints and many more.